How bad is the air quality in Beijing?
Beijing has the reputation of having some of the world's worst air quality thanks to its headline-making "beyond index" and "red alert" pollution events. However, the data tell a more complex and optimistic story.
In the last decade, authorities have brought in policies to mitigate the city's unhealthy air quality. As a result, the average annual PM2.5 concentration in 2018 was half that of 2009, (101.8µg/m³ in 2009 versus 50.9µg/m³ in 2018), while the number of healthy air quality hours annually nearly quadrupled (5.5 percent of hours in 2009, to 21 percent of hours in 2018). However, while Beijing's air quality is improving by the year, more needs to be done for the city to attain annual PM2.5 levels that meet the World Health Organization's guideline of 10µg/m³.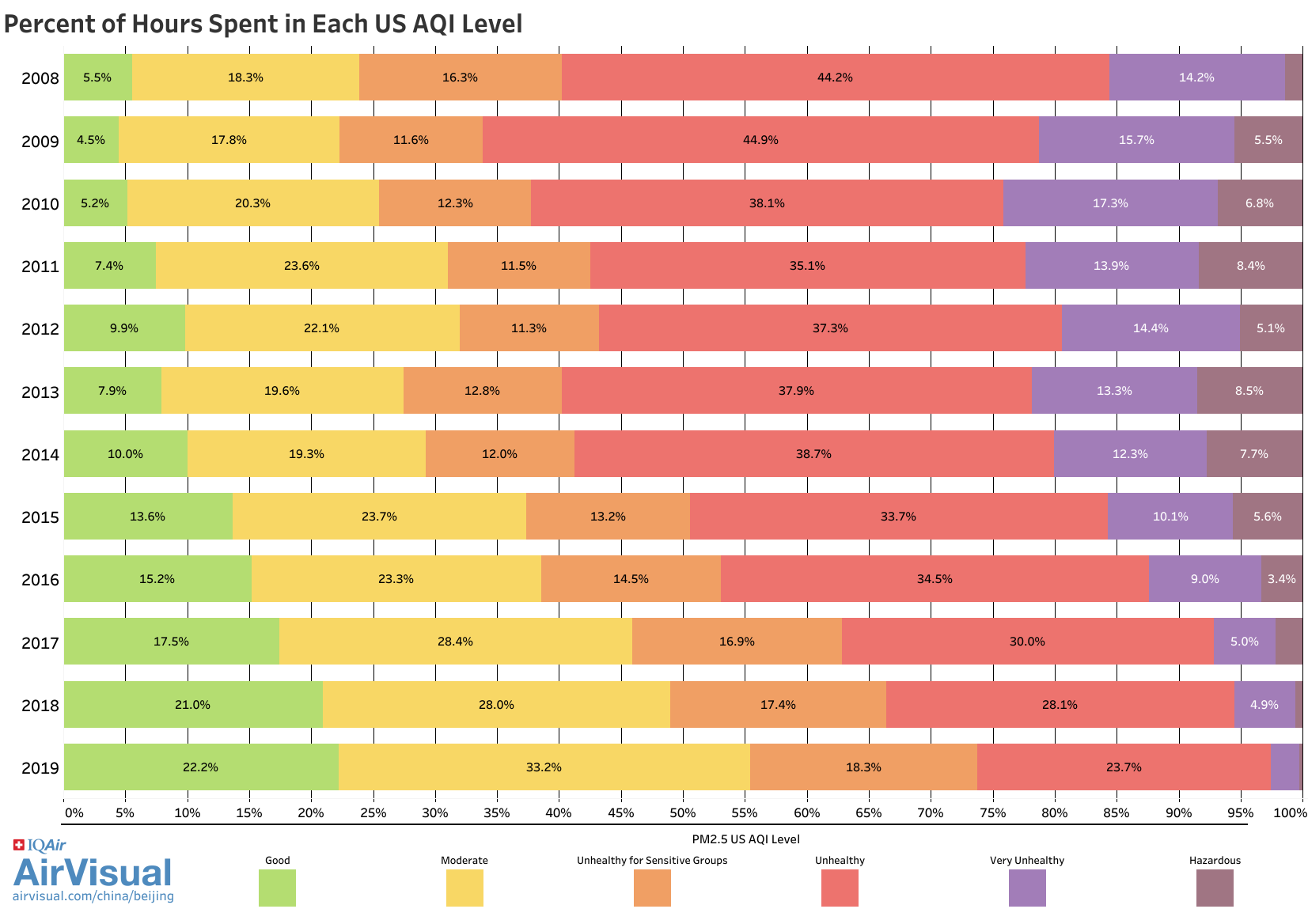 Beijing annual distribution of hourly PM2.5 concentrations, shown as US Air Quality Index categories
Where does Beijing's air pollution come from?
The largest sources of locally-generated PM2.5 in the capital are vehicles emissions, followed by road and construction dust. Beijing has 5.64 million private cars, and has cut the number of license plates issued each year down to 100,000, as of the end of 2017. In 2017, Beijing shut down the last of its four coal-fired power plants in its transition to natural gas. However, Beijing suffers from its valley topography; much of its pollution comes from outside the city and builds up until strong winds carry it away.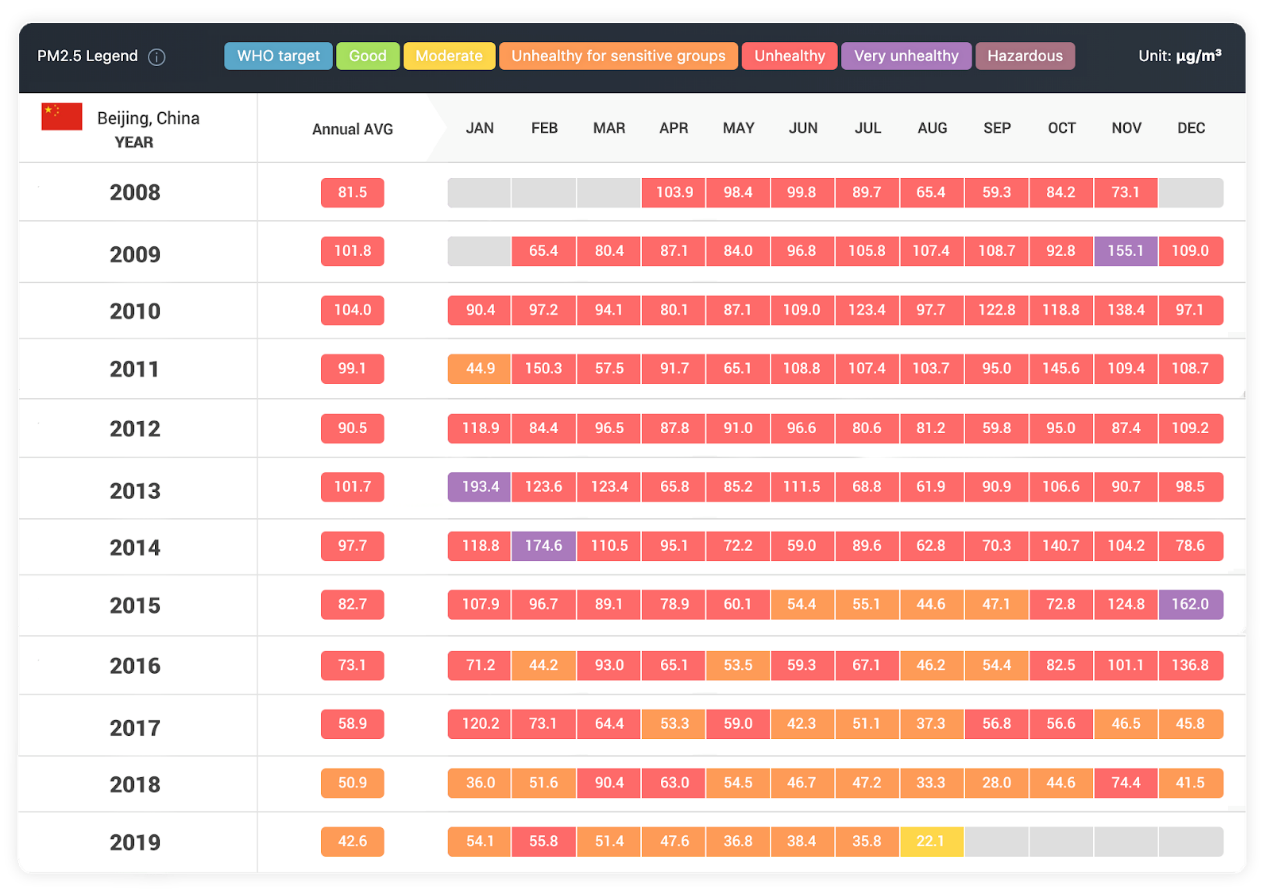 Beijing monthly average PM2.5 concentrations
As the capital of the world's most populous country, Beijing's air quality has drawn global attention and is seen as a reflection of the national environmental condition. For many years, public air quality records lacked transparency. In 2008, the US Embassy began tweeting real-time measurements recorded by the US Embassy air monitor a PM2.5 Beta Attenuation Monitor. The readings revealed a stark reality, previously unknown to the world and underestimated by residents. While Twitter is blocked in China, the data spread via Chinese sites and third-party apps, raising public awareness. Inadvertently, this placed mounting pressure on Chinese officials to both acknowledge the severity of the problem and begin taking measures to tackle it.
How can Beijing's air pollution be reduced?
In September 2013, the Chinese State Council issued an Action Plan for the Prevention and Control of Air Pollution, which included implementing a comprehensive, nationwide air pollution monitoring system. Today, Beijing city has a monitoring network of 34 government stations, which report real-time measurements, in line with US Embassy data.
While efforts have proven successful in meeting or exceeding goals set by the Chinese government, Beijing still averages air quality more than four times the WHO recommendation. Among global cities with air quality monitoring stations, Beijing ranked 122nd for the world's worst air quality, and 72nd among Chinese cities, in 2018
Is Beijing air quality improving?
In the last 15 years, China has been steadily improving their air quality. China reduced PM2.5 by 47% between 2005 and 2015. Beijing recorded their lowest month in air pollution in August 2019, with a low of 23 micrograms per cubic meter. The main reasons for the lower air pollution in China are the shift from coal to natural gas, the high amount of electric vehicles in China, and the effort from the Chinese government to halt deforestation in the country.
How is Beijing polluted?
Beijing air pollution is mainly caused by the burning of coal to produce electricity and vehicle emissions. Other factors that influence the air quality in Beijing include the manufacturing industry, the population growth, and several natural reasons such as the seasonal weather and the city's topography.
Should I wear a mask in Beijing?
Wearing a face mask when air pollution is high is one of the best choices you can make. Research has proven that wearing a decent mask can reduce your exposure to the air pollution in Beijing by over 90%. When the aqi in China is high, wearing a pollution mask protects your heart and lungs against harmful air pollution. Surgical masks are not as effective in blocking off the air pollution, but they are better than not wearing any mask at all.
How many people die from air pollution in Beijing?
Putting a number on the amount of people that die from the air pollution in Beijing is hard. But multiple studies have shown that, on average, people die 5.5 years sooner than they otherwise might because of the quality of the air in Beijing. In China as a whole, there is an estimate of 1.1 million people dying every year from air pollution...
How does air pollution affect people in Beijing
When the air quality in Beijing is at its worst, people are urged by the government to avoid outdoor activities. Most common health issues are a sore throat and cough. Over the past decade, lung cancer rates have risen over 60%. Other consequences of the air pollution in Beijing include yellow skies, higher mortality rates, and cancelled flights due to low visibility levels.
What is the current air quality in Beijing?
The air quality in Beijing goes through periods of high pollution. To get the most accurate information on the current air quality in Beijing, it's important to use real-time data. Our statistics come from the IQAIR testing stations that use real-time data to calculate the current air quality in Beijing.